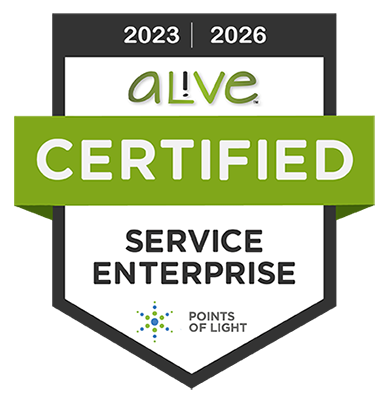 The Pantry is pleased to announce that it has been certified by Points of Light, the world's largest organization dedicated to volunteer service, as a Service Enterprise! Achieving Service Enterprise certification is a prestigious accomplishment for an organization. In fact, organizations that certify join the top 11 percent of nonprofits nationwide in volunteer management and organizational performance. Certification signifies that organizations have the capability and management expertise to strategically use volunteers to improve the performance of their organization. The Pantry completed an extensive assessment, over 20 hours of training and coaching, and an extensive internal planning and change process to better integrate 6 volunteers into our human capital strategy. By achieving this level of excellence and certification, The Pantry is now better equipped to leverage the time and talent of volunteers and better meet our mission.
Tina Powderly, Executive Director of The Pantry, said: "The lifeblood of the Franklin Food Pantry is our volunteers. We might have 9 paid staff, but we are a team of well over 125. The SEI process was a recognition of, and investment in, this invaluable asset. The goal was to elevate our program into a sustainable and scalable model while raising awareness internally and externally of our volunteer impact. We have done all of that and more. The volunteer perspective is as important as food and client needs in all strategic decisions. Our volunteers have grown in size and responsibility, and we've identified deeper and unique skill sets to broaden their impact on our mission. We leveraged technology to weather the challenges of a pandemic and recession. The volunteer program is approached with intentional development and a holistic view of how it fits into our mission, resulting in high engagement, satisfaction and efficiency."
Research conducted by the TCC Group, a national program and evaluation firm, found that organizations operating as Service Enterprises outperform peer organizations on all aspects of organizational effectiveness, and are more adaptable, sustainable and capable of scaling their work. The Service Enterprise program is a national change management program that helps organizations gain a greater return on volunteer investment to better achieve their mission. For more information regarding volunteer opportunities with our organization, please visit here.