To alleviate food insecurity and compassionately empower our community through resources and collaboration.
The Franklin Food Pantry will build a community in which everyone in need has an improved quality of life through nutritious food and supportive resources.
INTEGRITY – Openness and honesty in all relationships
COLLABORATION – Build and foster strong community relationships
STEWARDSHIP – Mindful that our mission is accomplished by the generosity of others
EMPOWERMENT – Education and advocacy programs that lead to self-sufficiency
SERVICE – Commitment to excellent service for our clients, donors, and community
RESPECT – Respect for the privacy and dignity of every person
The Pantry provides services without regard to age, race, religion, family status, disability or handicap, sexual orientation, gender, gender identity or expression, political belief or activity, military or veteran status, or any other characteristic protected under applicable federal, state or local law.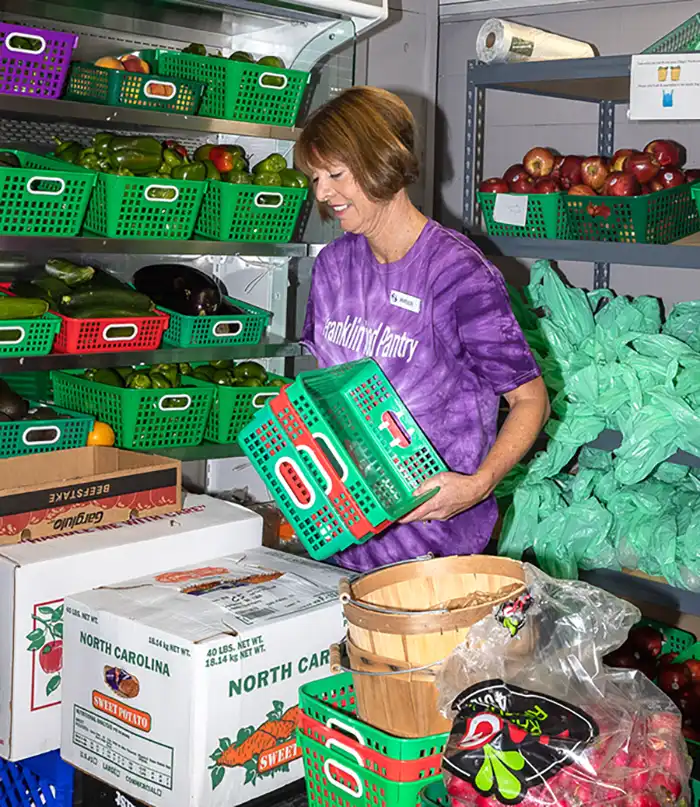 The Franklin Food Pantry in Franklin, MA offers free supplemental food assistance and household necessities to almost 1,300 individuals per year so that they can:
Focus on getting things done without the distraction of hunger.
Afford basic necessities due to supplemental food from the Pantry.
Tend to their responsibilities and relationships because they have the strength to do so. Things like:
◦ Looking for a job
◦ Purchasing medicine
◦ Thriving in school
◦ Paying utilities and rent
◦ Helping kids with their homework
Learn more about The Pantry