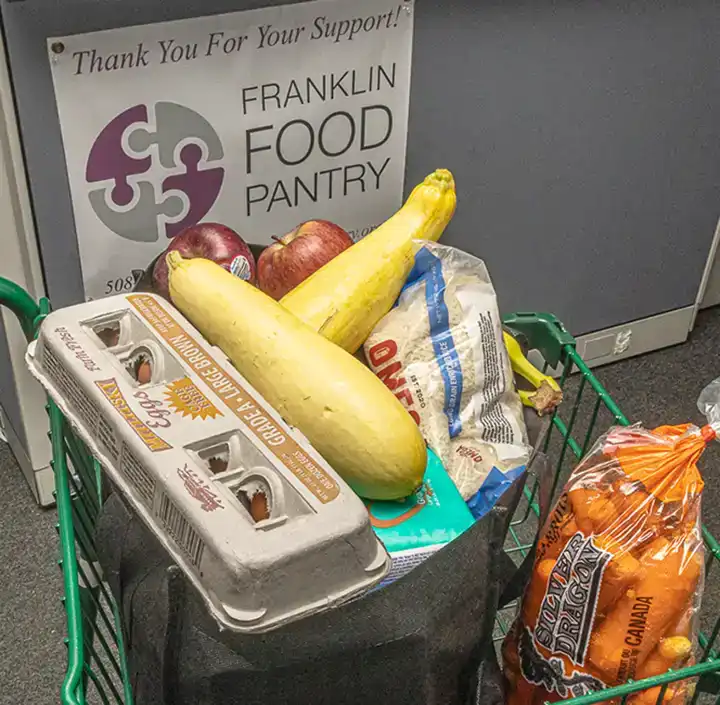 What to Donate?
At the Franklin Food Pantry we appreciate your donations and contributions. To ensure the safety of our clients, we accept unopened, unexpired, non-perishable foods, plus personal hygiene, cleaning supplies, and pet food. Please follow our Food Donation Guidelines to help ensure that your donation is appropriate and safe for distribution to our clients.
Also, see our Current Needs List and items on our Amazon Wish List.
How, When & Where to Donate Food
There are four ways to drop off your donations:
1. The Big Purple Bin
Please place donations in the big purple donation bin on the loading dock at 341 W. Central St. (facing east).
Do not leave donations outside the bin or anywhere else on the property.
If the bin is locked, please do not leave donations – no one will be here to bring them in!
BIN HOURS:
Unlocked and open for donations Mondays at 8:00 am – Fridays at 1:00 pm.
The bin is closed and locked Fridays at 1:00 pm – Mondays at 8:00 am.
The bin is closed during any Pantry closures.
2. Inside The Pantry with Pantry staff
During our regular hours of operation, Monday – Friday 8:30 am – 2 pm, ring the doorbell, and a staff member will open the door and help bring in your donation if needed.
3. Ship directly to The Pantry
Use our Amazon Wish List and ship directly to The Pantry!
4. Schedule A Drop Off
Thank you for your support!